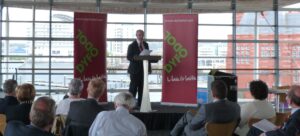 Dyfodol i'r Iaith is a lobbying pressure group. The organisation wishes to see positive policies which favour the Welsh language being put into action by central and local government.
Our Board consists of a dozen members, with expertise in education, language planning, the media, education, marketing, the law, politics, culture and the academic world.
We have already been influential and successful in many areas:
Establishing a dozen Welsh Language Centres
Establishing a 2nd popolar Welsh-language radio station
Ensuring that Welsh is a factor in housing development
Establishing a National Centre for Learning Welsh for Adults
Ensuring greater emphasis on Welsh in the community
But a great deal remains to be done.
We believe:
That Wales has to adopt policies that give the Welsh language a prominent role within the education system, the workplace, the community and the home
That we need to talk to all political parties to be effective and influential