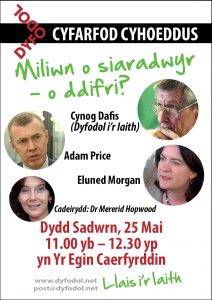 As we all know, the Welsh Government has set a target of creating a million Welsh speakers by 2050. But what exactly is the strategy for reaching this ambitious aim? What needs to be done now to set the work on track?
Since the Welsh Language Bill, the original plan for reaching the target, has been abandoned, what alternatives need to be put in place if the Government is to achieve its aim? Can we seriously expect progress without fundamental changes to the existing structures and ideas?
Dyfodol i'r Iaith believes that these questions must be addressed if the Welsh language is to thrive, and this public meeting will be an opportunity to ask politicians how best to proceed with this essential and urgent work.
The panel will include the Welsh Language Minister, Eluned Morgan; the Leader of Plaid Cymru, Adam Price; Cynog Davis of Dyfodol's Board and Dr Mererid Hopwood will chair the discussion. The meeting is free of charge and a warm welcome is extended to all. If you are passionate or passionately worried about the future of the language, then please call in at Yr Egin on Saturday morning, 25th May between 11.00 and 12.30; we look forward to meeting you!